It's One Sweet Spring with KIMBERBELL! At this Collector Series Event, you will create several blocks for one 18 x 22" wall hanging. In this exclusive KIMBERBELL event we will learn Raw Edge Applique, work with different mediums and a new texture backing, learn quilting in the hoop and so much more. These events are fun and a great learning opportunity.
When you arrive at a Kimberbell ® Event, you'll receive an exclusive sewing bag filled with Kimberbell fabric, Paper Tape, Kimberbellishments, and more. These will be used to make the One Sweet Spring Wall Hanging. The class fee includes all the fabrics, you just need to add thread and stabilizers.

Supplies Required:
Double-Curved Applique Scissors
Pincushion
Seam Ripper
Ruler and Measuring Tape
Turning Tool or Chopsticks

For embroidery machine owners: 4×4, 5×7 and 6×10 hoops.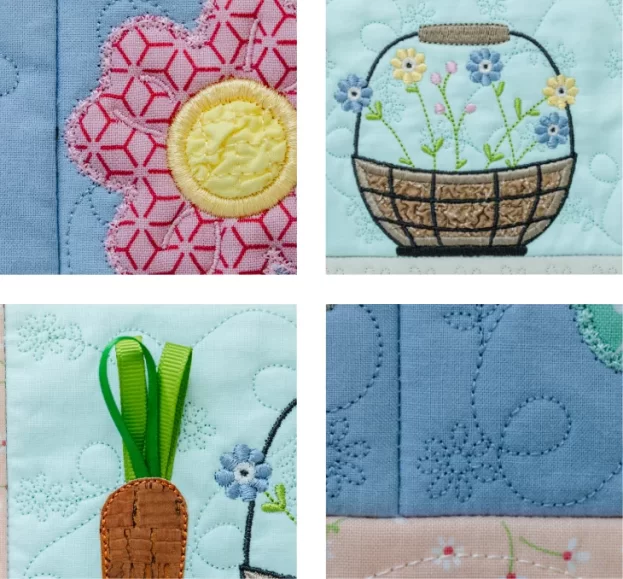 This class is suited for adults (age 15+)


All workshop participants are required to sign a waiver prior to the workshop. The entire waiver can be viewed at the bottom of our classes page. (East Coast Quilt Co. Workshop Waiver)

CLASS CANCELLATION POLICY:
If you cannot attend a class and it is 7 or more days before class, you will receive a store credit for 75% of the value of the class with a 30-day expiry date. If you cancel less than 7 days before class, you will NOT receive a refund or store credit. No credit or refund will be given for a "no show" in class regardless of reason. So please ensure that you are able to attend before signing up. East Coast Quilt Co reserves the right to cancel classes/events for any reason. If this happens, you will be refunded your full class fee.

WHAT IS IN A BASIC SEWING KIT:
For most of our classes we ask you to bring a 'basic sewing kit' which usually contains: rotary cutter and/or scissors, small snipping scissors, straight pins & a pin cushion or collector, seam ripper, a spool of neutral 50 wt cotton thread, extra bobbins, notebook & pen/pencil, ruler(s), etc.).
| | |
| --- | --- |
| Skill Level: | Beginner |
| Skill Details: | Beginner and Beyond! |
| Materials Included: | When you arrive at a Kimberbell Event, you'll receive an exclusive sewing bag completely filled with Kimberbell fabric, paper tape, ribbon, buttons, and more to make the wall hanging. We will even cut the stabilizer for you! |
| Requirements: | If you bring your own embroidery machine please bring 5x7 and 6x10 hoops, pre-wound bobbins (white), and extra embroidery needles. Thread and Stabilizer kits available for puchase at the event. |
| Instructor: | Lindsay Nichols |