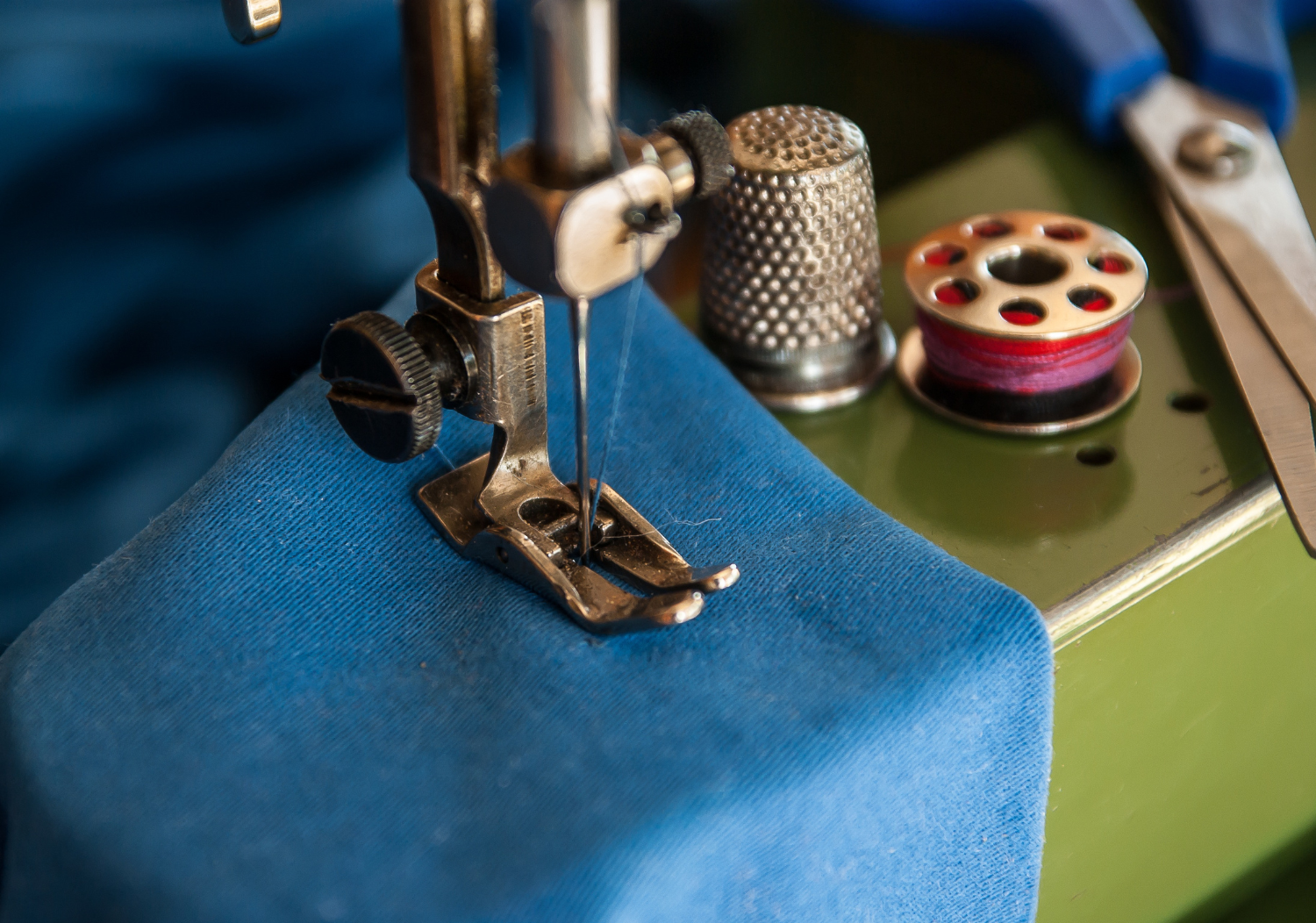 Introduction to garment making will focus on understanding fabric types, styles, basic construction, professional finishes.
Students will learn to read & understand apparel patterns and shape them into wearable garments.
Create a reference binder of techniques and notes on your journey to custom clothing!
Learn to read both paper & PDF patterns.
8 week course; 2.5hr/once a week

Thursday's 1:00 - 3:30pm or 6:30pm-9pm

Pattern focused

Learn to piece, cut, and read patterns, using both traditional paper patterns & PDF patterns

Learn finishing hems & techniques while keeping a neat reference binder

Finishing techniques

Terminology
Supplies Required:
Sewing machine

Coordinating thread

Rotary Blade

Fabric scissors (6" - 8" recommended)

Basic Sewing kit (marking tools, pins/clips, safety pins, thread snips)

Marking tools (vanishing tailors chalk, washable blue fabric marker, frixion pen)

Various needles (70/10 - 90/14 general use, 100/16 denim/canvas, ball point)

Fabric suited to project (each will be outlined in detail) + notions

PDF Patterns, printed & pieced

Binder (handouts, notes, sample work)

Lesson 1
Learn about material - knits vs woven, natural vs synthetic, fabric types and structures

Grainline, cross grain, bias

How to take measurements. Students will take their own measurements to record in their binder.

Sample work of

Finished hem techniques (pinking shears, zig zag stitch, serger/overlock, french seam, double fold hem, skinny hem, stay stitch, baste, blind hem etc…)

Embellishments: Gathering, pleats, decorative trims & stitching, twin needle
- Intro to patterns
Making a muslin

Transferring markings/making copies of patterns

Sizing

PDF pattern vs Paper Pattern

Pattern Symbols

Introduction to Pyjama pants pattern

Layout & cut process PDF (homework to print and piece PDF pattern)
Lesson 2 & 3- PJ Pants (PDF pattern)


https://thefoldline.com/product/jaimie-pyjama-bottoms-and-shorts/
Choose between full-length pyjama bottoms or flirty boyfriend shorts, with an optional drawstring detail. The low-rise, elasticated waist and relaxed-fit leg make these PJs oh so comfy to wear. You'll never want to get dressed when you're wearing your Jaimie jammies!
https://thefoldline.com/product/the-pyjama-bottoms/
The Pyjama Bottoms are full-length and have a relaxed fit with an elasticated waistband, side seam pockets and a tie front created with an optional buttonhole or mock tie.

The Pyjama Bottoms have been created with you, the beginner seamstress, in mind. The clear, straightforward instructions guide you through each step as if an expert seamstress were right there by your side.
Lesson 4 & 5 - Hudson Pants (Paper Pattern)


Buttonhole workshop (30mins)

Working with knits

Reading paper pattern

The Hudson pant is the piece of clothing that you will wear all of the time. It is comfortable enough to wear around the house, but can easily be dressed up to go run errands. The modern fit of these pants leaves a bit of extra room around the hips and then tapers into a skinny leg. View A is a full length pant and View B is midcalf.
Lesson 6-8 - Cielo Dress/Top (PDF or Paper Pattern - students choice)


The Cielo Dress & Top is an easy, breezy take on a boxy tee and shift dress. Loaded with interesting details and interchangeable features, it will fast become a wardrobe-building favourite.

Choose between a semi-cropped top with a cuffed short sleeve (View A) or a dramatic gathered long sleeve (View B). Or, make an easy-fitting dress with sleek inseam pockets (View C), or without pockets (View D). All views have a slightly dropped shoulder, angled shoulder yoke and roomy fit, with a choice between an elegant bias binding or a faced neckline finish.
This class is suited for adults (age 15+)


All workshop participants are required to sign a waiver prior to the workshop. The entire waiver can be viewed at the bottom of our classes page. (East Coast Quilt Co. Workshop Waiver)

CLASS CANCELLATION POLICY:
If you cannot attend a class and it is 7 or more days before class, you will receive a store credit for 75% of the value of the class with a 30-day expiry date. If you cancel less than 7 days before class, you will NOT receive a refund or store credit. No credit or refund will be given for a "no show" in class regardless of reason. So please ensure that you are able to attend before signing up. East Coast Quilt Co reserves the right to cancel classes/events for any reason. If this happens, you will be refunded your full class fee.

WHAT IS IN A BASIC SEWING KIT:
For most of our classes we ask you to bring a 'basic sewing kit' which usually contains: rotary cutter and/or scissors, small snipping scissors, straight pins & a pin cushion or collector, seam ripper, a spool of neutral 50 wt cotton thread, extra bobbins, notebook & pen/pencil, ruler(s), etc.).
| | |
| --- | --- |
| Skill Level: | Intermediate |
| Skill Details: | Confident Beginner. Participants should be comfortable with their machine (threading, changing feet/stitches/settings), cutting, seam allowances, some serging experience would be helpful but not necessary |
| Materials Included: | none |
| Instructor: | Kerri Ivany |
| Instructor Bio: | Textile artist, professional seamstress, and a sewing instructor. Lover of boho/hippie and vintage style in modern forms. Kerri has been practicing her craft for many years, graduated with a college diploma in textiles, and has worked various jobs since graduation (2013) within the sewing industry. (Tailoring, production sewing, teaching workshops/classes, costume) Currently working for local quilt shop East Coast Quilt co., Kerri loves to engage, educate, and inspire creativity in others. Sharing her experience, product & fabric knowledge, and teaching various quilting classes with ECQco. I love to create. I love to work with my hands - I've always been tactile so craft was a perfect fit. You can follow Kerri online through her artist social media pages: Facebook/olivecloth.ca Instagram/olivecloth.ca |