---
HELLO!

We have met so many new faces in the last month, so we just wanted to start by saying "Hello!" to our new and existing customers. We are thrilled to have you part of our quilting and sewing community. For October, we have a jam packed month ahead full of exciting programming and classes. So go ahead, pour up that cup of tea, sick back, and enjoy some ECQco goodness. We hope to see you again soon!

* * * LONG ARM SERVICE* *

The deadline to drop off your Christmas quilt's for LONG ARM SERVICES is November 3rd


Stay Safe & Happy Quilting!
- The ECQco Team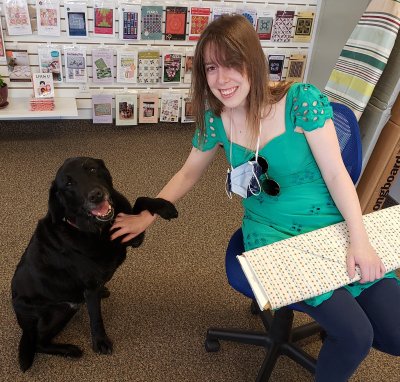 Hours of Operation:

Main Shop:
Monday to Thursday: 10 am to 8 pm
Friday to Sunday: 10 am to 6 pm

ECQco Annex:
Thursday to Sunday 10 am to 6 pm


As mandated by the provincial government, masks are now required to be worn inside the shop. If you do not have one, we have disposable masks available at the front cash both in our Main Store and the Annex. We also have locally made fabric masks for sale in our shop! If you are unable to comfortably wear a mask please note that we offer curbside pickup daily.


Free home delivery is available on purchases over $40 to the Metro area (St. John's, Torbay, Portugal Cove-St. Phillips, Paradise, and Mount Pearl) Deliveries are on Monday and Thursday after 4:30 pm. We offer FREE shipping on order over $100 for the rest of the province & Canada!
www.eastcoastquiltco.com.

- - - - - - - - - - - - - - - - - - - - - - - - - - - - - - - - - -

* NEW *
Monthly Staff Recommendations
This month's staff pick is brought to you by Lindsay Nichols! Lindsay not only works part time in the shop, but teaches many of our apparel and accessory classes. She's a quilter, sewer, and all around fabulous maker!

Lindsay's Pick: Brussels Washer Linen!





Brussels Washer Yarn Dyed - 55% Linen 45% Rayon

From Robert Kaufman Fabrics, this classic light-medium weight linen blend fabric has a beautiful hand and drape. It features the cool comfort of linen with the wearability of rayon. This fabric is perfect for creating pretty dresses, skirts, tops, pants and more!
This fabric is perfect for the Wiksten Shift Top/Dress workshop that is coming up soon!

You can shop our Brussels Washer Yarn Dyed fabric and other apparel fabrics via our website at: https://www.eastcoastquiltco.com/shop/FABRICS/Apparel-Fabric.htm


- - - - - - - - - - - - - - - - - - - - - - - - - - - - - - - -




* NEW PROMOTIONS & PROGRAMMING! *




Has COVID got you lonely? Now's the time to add a new addition to your Sewing family! BERNINA is having a HUGE autumn sale that you simply cannot miss. Click below to check out these amazing deals:

SHOP BERNINA NOW!

- - - I SPY Swap - - -
Only 6 seats left! hurry, hurry!
** EXTENDED TO OCTOBER 15TH **


This super popular event is back, folks! Join now for our first round of this modern I SPY Swap! The swap is a fun and inexpensive way to accumulate multiple images needed to complete an I SPY Quilt. All you do is cut thirty two 5 inch squares, submit them to the shop by October 15th, and at the end of the event you will receive the same amount of fabric back but in an assortment of new and exciting prints! Participants will be contacted with their chosen color and instructions.

What is an I SPY Quilt, you ask?
An I SPY quilt features novelty cotton prints with images that are easily identifiable & would capture a child's attention. The quilt is made to engage a young one in a game of I SPY, with them searching over the blocks of the quilt to find the images. "I Spy with my little eye....an apple! a tractor! a raccoon!"

Live out of town? No worries! Sign up online and click the
$6.00 shipping option to have your set mailed to you!

Sign up now to claim your seat!
https://www.eastcoastquiltco.com/module/class.htm?classId=380799


- - - - - - - - - - - - - - - - - - - - - - - - - - - -

- - - - - - - - - - -

- - - - - - -
Classes at East Coast Quilt co
- - - Christmas Advent Calendar - - -
Two Options: Village or Express
Express Workshop




Two Part Series:

Friday, October 16th and 30th: 10:00am to 5:00pm
Village Workshop


Two Part Series:

Saturday, October 17th and 31st: 10:00am to 5:00pm
Cost: $75.00 each

Instructor Sharon Griffin will guide you through making this whimsical and magical advent calendar. Whether you pick the Express or the Village design, this calendar will be treasured for years to come.
Sign up here: https://www.eastcoastquiltco.com/classes.htm

- - - Slow Stitch Club - - -
Learn the Art of Slow Stitching by Hand
8 Month Series
Wednesday Evenings - 7:00pm to 9:00pm

October 7 - November 4 - December 2 - January 6
February 3 - March 3 - April 14 - May 19

Cost $230.00


Purposeful and focused immersion while stitching benefits us in physical, emotional, financial, and spiritual ways. It gives us a brand new way of looking at our work and how we approach the world in general. Learning a slow stitching technique gives us more than a finished product, it offers benefits that we often overlook in our consume, rush, finish, unconscious world.
Join Lori Shortall as she teaching a new type of hand stitching each month. Students will learn the basics of embroidery, hand quilting, English paper piecing, hand piecing, appliqué, kantha, sashiko, and boro to begin creating art with stitches.

The Slow Stitch Club welcomes you into a whole new
community of creativity and socializing!

For more information & to sign up:
https://www.eastcoastquiltco.com/module/class.htm?classId=384081


- - - HST (Half Square Triangle) Madness! - - -

6 Week Series


SIX SESSIONS:
October 26th, November 2nd, 9th, 16th, 23rd, and 30th.
Two Time Slots:
Monday Daytime from 1:00 to 3:30 pm
Monday Evenings from 7:00 to 9:30 pm

*only two spots left!*




Cost: $165.00
Half Square Triangles (also known as HST) are one of the most used blocks in quilting. The number of ways you can use this unit is endless! In this six week course you will channel your inner quilt designer to construct a quilt that is uniquely YOU! Join Rochelle Kavanagh as she guides you in making a large lap sized quilt composed exclusively of HST blocks. This course will build on your existing quilting skills in a supportive, fun, and creative environment! Great for those who have completed the Learn to Quilt series.
Sign up now at:

https://www.eastcoastquiltco.com/module/class.htm?classId=379959
- - - Mastering Machine Embroidery - - -


4 Week Series:
November 7th, 14th, 21th, and 28th
Saturday's -

1:30 to 4:30 pm
Cost: $115.00
This 4 week series is perfect for those who own an embroidery machine and have not yet
mastered the art of machine embroidery! Or, for an embroiderer who would like to learn a few new techniques with their machine. Each week, Donna Walsh will teach you a new technique to take away for practice at home. Stabilizers used in this series are included in your class fee.


Sign up here:
https://www.eastcoastquiltco.com/module/class.htm?classId=328076
- - - Jelly
Roll Rug - - -
Sunday, November 8th:10am to 1pm
Sunday, November 15th: 10am to 5pm


Cost:
$70.00 or $55.00 if you already own the pattern


This popular class is back! It has rolled its way out of this pandemic and is ready for you! This Jelly Roll Rug is all the rage. Make it seasonal, make it fancy, pick your fabrics to match your home decor. We have the pattern, precut batting strip, and precut fabric in stock - or bring in your own



All purchases for the classes are 15% off!





Pattern is required for this class; please purchase with your workshop fee if not pre-owned.




For more information and to sign up, click on the link below:
https://www.eastcoastquiltco.com/module/class.htm?classId=380575
- - - Serger Basics - - -
Available Dates & Times:

Wednesday, October 7th: 2:00pm to 5:00pm


Sunday, October 11th

:

1:00pm to 4:00pm

Cost: $40.00
Join Donna Walsh in a 3-hour workshop to learn about basic serger usage: threading the machine, threads to use, needles, + some tips and tricks.
Participants will use a workbook to track settings for the various stitches/fabric. The workbook will also contain a place for a class sample as well as a notes section so that it can be used as a quick resource for future serger projects. Class requirements and information can be found by clicking on the link below:

https://www.eastcoastquiltco.com/module/class.htm?classId=380575

- - - Learn to Sew Series - - -
*Session Added due to Popular Demand*
6 Week Series:


Wednesday Evenings from 7:00 to 9:30 pm


SIX SESSIONS:

October 21st, 28th, November 4th, 18th, 25th, and December 2nd

This very popular class, taught by our very own Donna Mactavish, is a wonderful way to get started in your sewing adventures. This series takes you from complete amateur to confident beginner! Not only will you learn sewing machine basics, you will create various projects including a table runner, apron, tote bag, and a mask.



No need to bring along a sewing machine,




one will be provided in this class!




Sign up now at:
https://www.eastcoastquiltco.com/module/class.htm?classId=281441
- - - Long Arm Certification Course - - -



Available Dates & Times:


Saturday, October 3rd:

10:00 am to 1:00 pm




(one spot left!)
Saturday, October 17th:
10:00 am to 1:00 pm
Wednesday, November 4th:
10:00 am to 1:00 pm
Saturday, November 21st:
10:00 am to 1:00 pm
Wednesday, December 9th:
10:00 am to 1:00 pm
Cost: $150.00
Taught by our very own, Debbie Northover, this 3 hour certification teaches the basics of quilting using a long arm machine. A hands-on class, you will practice freehand quilting as well as learn how to use a pantograph design. This is a required course for renting the long arm machine in our shop. At the end of the course, you will have 3 FREE hours to apply to your future longarm rental!
This fills up extremely fast, so make sure to give us a call or register online ASAP:

https://www.eastcoastquiltco.com/module/class.htm?classId=321580



- - - - - - - - DISCLAIMER - - - - - - - -


If you are wondering why you are receiving this newsletter and how we got your email, it's because you have previously signed up at one of our stores, The Fabric Merchant or Sew Many Stitches, before we joined as East Coast Quilt co! We have now combined all our customer information under ECQco. However, if you would like to opt-out of the newsletter, we completely understand. Scroll down to the bottom of the email and click "unsubscribe".
- - - - - - - - - - - - - - - - - - - - - - - - - - - - - - - - - - - - - - - - - - - - - -

East Coast Quilt co.
(709)-237-3655
info@eastcoastquiltco.com
Did you Know...

According to our sources... East Coast Quilt co. is the largest independently owned and operated fabric store in Eastern Canada? We carry designer lines including Liberty, Tula Pink, and Victoria Findlay Wolfe. We also carry ALL 370 available colors of KONA 100% Cotton! We have an amazing online store and we ship right across the Country! Orders of $100 qualify for free shipping.


Check out our website for new arrivals, top sellers, and sale items!
These emails will give you the best and most recent information you need!
Keep in touch with us by visiting our website!